About
Plum Lyon Teaching Kitchen
49, rue des Tables Claudiennes
69001 LYON, FRANCE
The Plum Lyon kitchen welcomes you to come and cook in Lyon
, the gastronomic capital of France. Located in the ancient silk-worker's district on the hill of the Croix Rousse, a UNESCO World Heritage site, Plum Lyon is offering seasonal market classes, classic French cooking, children's workshops, and single subject ateliers that cover a chosen technique or theme in French cuisine. We accommodate 6-8 students per class. There is plenty of opportunity for hands-on learning in English at Plum Lyon.
Come visit and cook with us!
A typical week at PLUM: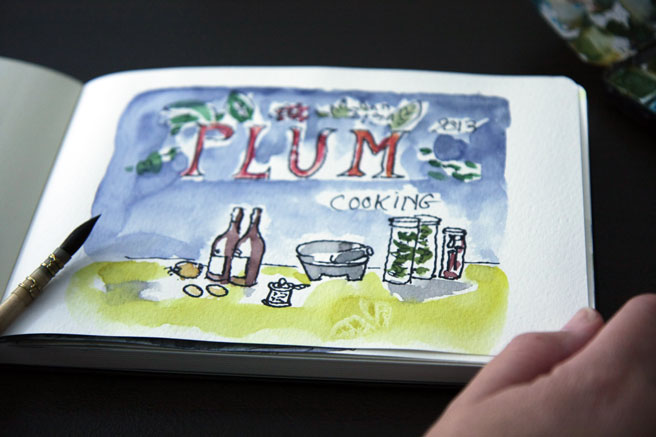 Monday is design day.
We hold our food photography ateliers, and invite colleagues and friends to brainstorm and create with us. We test recipes, work with future collaborators, conduct research, edit copy for various projects, and handle administrative work related to the running of the PLUM LYON kitchen.
Tuesdays, we tour the best markets and cook a full meal with you.
First stop: Lyon's biggest outdoor market and fill up our market baskets. Next, we go together to Lucy's favorite fromagerie and put together our cheese plate. We return to Plum Lyon to cook up a sumptuous lunch based on that day's finds. Add offered tastings of a selection of local wines and there you have it. A wonderful meal (with recipes!).
Wednesday and Thursday afternoons, PLUM does pastry.
Learn how to execute your own croissants, brioche, feuilletage, charlottes, choux based desserts like eclairs, choquettes, the famous paris-brest, les religieuses, etc. and know the satisfaction of acquiring a skill you can keep forever.
Fill your market basket on Friday with PLUM.
We stroll the market together in the morning, make a cheese plate, gather local artisans' nibbles, and head back to the kitchen to cook, sample, learn and share well into the afternoon.
You can read more about what people are saying about Lucy's classes at Plum here:
About Lucy Vanel:
Lucy Vanel is owner of the Plum Lyon Teaching Kitchen and is a French certified pâtissier, having been accepted into the ranks of France's pastry profession after passing
l'épreuve technique
and professional qualification tests for
Le certificat d'aptitude professionnelle
in pastry through the Académie de Lyon.
Lucy started her business in the year 2007. It was such a small business at the beginning, that it garnered the name
micro-entreprise
in French. She taught student groups and began a group of regulars and through her readership on Lucy's Kitchen Notebook, her main project, a blog about food and cooking in Lyon, France. The more she developed her teaching materials and conducted workshops, the more she knew that her love of teaching people to cook was getting serious and that it was what she was meant to do. Years of teaching in various venues taught her a lot about what her dream kitchen would look like. Her goal of running longer, more encompassing workshops finally pushed her to find a space and make it her own. One year after making the decision, the exhaustive search in Lyon for the right property bore fruit. She signed the papers on a 230 year old bakery with good bones before a notary and undertook the project to completely remodel the space, to realize her vision of the teaching kitchen with a food styling and photography studio. Allowing the nature of her classes and her activity to evolve and take form over the last five years has been an exhilarating, rewarding experience, and Lucy looks forward to each and every day at Plum as the adventure continues.
Lucy's work and the Plum Lyon Teaching Kitchen have been featured in San Pellegrino Itineraries of Taste, the New York TImes, Boston Globe, Chicago Tribune, Delicious Magazine, France Magazine, France Today Magazine, The Guardian UK, The Independent UK, In-Flight Magazine, Washington Post, South China Morning Post, C&IT Magazine, Syracuse Herald Journal, Watertown Daily Times, and on World Radio Switzerland, with television appearances on BBC's Great Railway Escapes, Luke Nguyen's France, as well as featured in Marcia DeSanctis' NYT Best-seller, 100 Places in France Every Woman Should Go.